Designed with the Analyst in Mind
Information at Your Finger-tips
Analysts will benefit from the touch panel interface, which features clear graphics that display information instantly whenever needed. The user-friendly interface leaves the operator free to focus on obtaining optimal analytical results.
Main settings controllable via the touch panel on the GC unit:
Analytical conditions
Self-diagnostics
Automatic carrier gas leak check
Chromatogram display
Minimized Running Costs
- Automatic Start and Stop Functions -
The automatic start and automatic stop functions reduce running costs. The automatic stop function can save electricity by automatically stopping GC temperature control when analysis is completed. Later, after a specified time has elapsed, it also stops carrier gas and detector gas control. The automatic start function starts gas control after a specified period of time and then starts temperature control.
Comparison Between With and Without Using the Automatic Start/Stop Functions
Minimizing Usage of Helium Gas
- Gas Saving Function -
With the split/splitless sample injection method, the carrier gas saving function can reduce the amount of carrier gas released beyond the system from the split flow lines after transfer of the samples to the column during analysis.
Additionally, by using an optional gas selector, He can be automatically switched to an alternative gas such as N2 when providing gas to the units outside of analysis times. The gas can be saved when used in combination with the carrier gas saver function, or even with the total volume injection method where the carrier gas saver function cannot be used. Control is integrated with LabSolutions, enabling gas switching to be configured seamlessly.
Diagnoses Instrument Operating Status
- Self-Diagnostic Function -
The operational status of the instrument can be confirmed using the self-diagnostic (system check) function. Periodic diagnostics help prevent unexpected downtime.
Automatic Notification of Replacement Timing
- Monitoring Function -
Check for leakage of gas from the sample vaporization chamber with a single tap. Checks can be performed with the column attached as is, thereby speeding up the procedure.
Making Routine Analysis Convenient with ClickTek™
Tool-free Column Installation
ClickTek connectors* make tool free column installation a snap. The click sensation felt when finished attaching the column provides a more reliable connection and ensures a better seal under all operating conditions. *Optional
One Touch Inlet Maintenance
The injection port can be opened or closed without tools by simply sliding the ClickTek lever. Replace the insert, slide the lever and feel the click for a leak-free install every time.
ClickTek Connector
ClickTek Nut
Software Improves Laboratory Productivity
LabSolutions Software Fully Integrates LC and GC Functionality
The LabSolutions series is a next-generation workstation software that integrates GC control, LC control, and additional improvements to functionality, while maintaining back-compatibility with the previous GCsolution. It offers sophisticated functionality, easy operation, highly extensible report functions, and other customizable features. In addition to inheriting these and other concepts from GCsolution, LabSolutions shares a common operating environment.
Freely Accessible Analytical Networks with LabSolutions CS
LabSolutions CS manages all analytical data on the network server, so that the data can be loaded to any computer connected to the network. In addition to sending analysis instructions, monitoring, and controlling instruments not directly connected to the computer (client computer), LabSolutions CS can also be used to directly control non-Shimadzu LC or GC units.
LabSolutions Direct Enables Remote Control and Monitoring
LabSolutions Direct is a new LabSolutions series remote access tool used to remotely control or monitor GC systems via a simple user interface on a commercially-available smartphone or tablet. Consequently, analyses can be performed while remotely monitoring the status of instruments from locations away from the laboratory.
Exceptional Extensibility and Productivity
GC Systems Customized for Specific Needs
The Nexis GC-2030 provides powerful support for configuring custom GC systems tailored to user needs. These systems are adjusted and tested at the factory for the given application before shipment, so they are ready to use for measurements as soon as they are delivered. That means no time is required for developing methods after the system arrives. Two TCD detectors and one FID detector can be installed at the same time. An optional valve box can be added to control up to eight valves from the original four.
Examples of System GC Configurations
Advanced Flow Technology
Advanced Flow Technology (AFT) function increases analytical productivity with backflush, detector splitting, and other systems. With the Nexis GC-2030, methods can be specified either via the LabSolutions GC software or directly via the touch panel on the GC unit, without having to use any tedious specialized wizard software. It supports a variety of carrier gas control modes (such as constant linear velocity, constant flowrate, and constant pressure control modes), which ensures analytical conditions can be transferred smoothly from previous systems. Multiple AFT lines can be connected to the same GC unit as well.
Shorter Analysis Time
- Backflush System
Once target compounds have been detected, the backflush system reverses the carrier gas flow to discharge non-eluting components in the column through the injection port. This ability shortens analysis times and improves productivity.
Related Application
Rapid Analysis of Low Molecular Weight Cyclic Siloxanes Using a Backflush GC System
Multiple Chromatograms Obtained from a Single Analysis
- Detector Splitting System
Multiple chromatograms can be obtained at the same time by using the detector splitting system to split the flow exiting the analytical column and send the eluted components to multiple detectors. Consequently, much more information can be obtained from each analysis, which improves productivity by saving time and reducing costs.
High separation analysis is possible
- Heart-cut System
Heart-cut is a method of performing separation using two columns with different selectivity. In this system, components that could not be separated by the first column are introduced into a second column with different properties, and further separation is performed. Heart-cut system can achieve high resolution performance analysis, which is normally difficult to attain by single column analysis.
Faster Analysis with Hydrogen Carrier Gas
Hydrogen can be a safe and highly effective carrier gas. As a highly efficient carrier gas with a flat Van Deemter curve, it maintains its separation efficiency across a wide linear velocity range. This makes it both a good substitute for Helium and also a great choice for speeding up analysis times. We know safety is paramount, which is why the Nexis GC-2030 offers an optional built-in hydrogen sensor*. It not only maintains a safe standby mode for early detection of any potential leaks, but also shuts off hydrogen flow. The main unit also includes an automatic carrier gas leak check function, which is very helpful when using hydrogen as a carrier gas.

*Optional

Example of Using a Hydrogen Carrier Gas for
High-Speed Analysis of Impurities in Benzene
Hydrogen Sensor* Monitors Inside the GC Oven
Related Application
Examples of Analyzing Organic Compound Species with Hydrogen Carrier Gas Using Nexis GC-2030
World's Highest Sensitivity and Reproducibility
*As of May 2017, according to a Shimadzu survey
High-Sensitivity Detectors Support a Wide Variety of Analyses
High-Sensitivity Simultaneous Analysis of Inorganic Gases and Lower Hydrocarbons Using Dual BID System
The barrier discharge ionization detector (BID-2030) is a universal detector that offers high-sensitivity analysis by using a low-frequency dielectric barrier discharge plasma for ionization. The BID generates a helium (He) plasma by applying a high voltage to a quartz glass tube. The light energy from the He plasma then ionizes the target components and the ions are collected and output as peaks using a collection electrode. Its universal detection capability and high sensitivity make it the perfect choice for the analysis of inorganic gases and light hydrocarbons at ppm-level concentrations. The Nexis GC-2030 can be equipped with up to two BID-2030 detectors for increased productivity or separation versatility.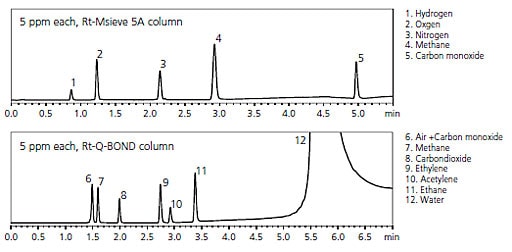 High-Sensitivity Simultaneous Analysis of Inorganic Gases and Lower Hydrocarbons Using Dual BID System
Barrier Discharge Ionization Detector (BID-2030)
Related Application
High-Sensitivity Simultaneous Analysis of Inorganic Gases and Light Hydrocarbons using Nexis GC-2030 Dual BID System
Analysis of Residual Solvents in Pharmaceuticals
The jet and collector structure on the flame ionization detector (FID-2030) has been optimized to provide improved performance. Noise levels were also decreased by improving the stability of the signal processor and flow controller. This results in the world's most sensitive FID.
This makes the Nexis GC-2030 the best choice to measure residual solvents in pharmaceuticals.
Analysis of Trace Residual Solvents in Pharmaceuticals
using Head Space GC, Class 1 Standard Solution
Flame Ionization Detector (FID-2030)
Related Application
Analysis of Residual Solvents in drug products using Nexis GC-2030 combined with HS-20 head space sampler
- USP <467> Residual Solvents Procedure A -
Analysis of Volatile Organic Compounds (VOCs) in Effluent Water
The electron capture detector, ECD-2010 Exceed, features a uniquely designed internal structure that protects the source from contamination while providing exceptional sensitivity. The result is a detector that will last longer between cleanings to provide greater productivity and maximize your ROI.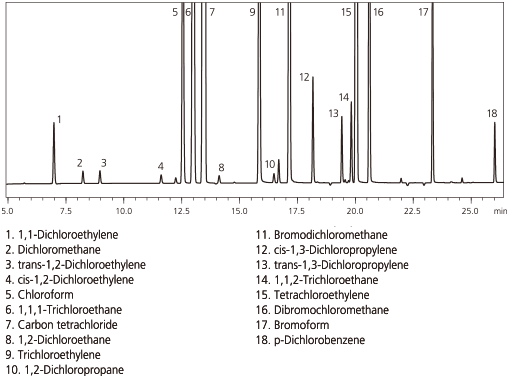 Analysis of Volatile Organic Compounds (VOCs) in Effluent Water using Head Space GC
Electron Capture Detector (ECD-2010 Exceed
Related Application
Analysis of VOC in Water using Nexis GC-2030 and Headspace Sampler HS-10
Analysis of Organic Phosphorus Pesticides in Food
The flame photometric detector (FPD-2030) features an optimized flame shape and a more advanced dual-focus system, which result in the world's most sensitive FPD*. It can detect ultra-trace quantities of organic phosphorus pesticides in food with higher sensitivity.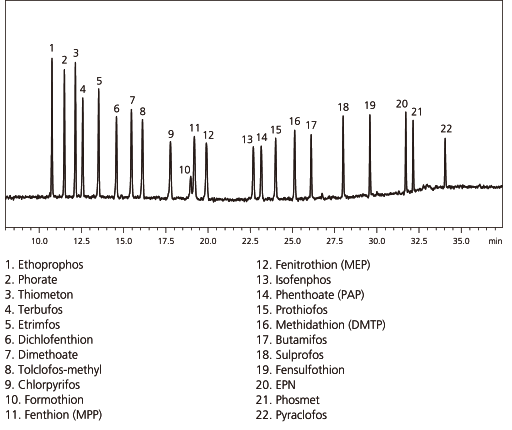 Splitless Analysis of 5 μg/L Organic Phosphorus Pesticide Standards for each component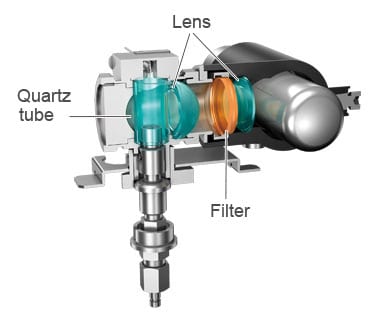 Flame Photometric Detector (FPD-2030)
Related Application