Axcend's® Axcend Focus LC® is a breakthrough, fully portable, high-performance liquid chromatography system that can be hand-carried anywhere and used on-the-spot: within a laboratory, inside a glove box, on a scientist's desk, on a manufacturing line, and yes, even in the field.
Never before has such HPLC flexibility been available — until now!
The Axcend Focus LC delivers greater sensitivity than other UV-absorption-based HPLC systems, producing accurate test results rapidly, while using 1/500th of the solvents and generating 1/500th the waste.
The award-winning design of the Axcend Focus LC utilizes compact, tool-less and easily swappable cartridges to make modifying hardware settings fast and easy, something not found with most HPLCs.
Additionally, integrating the Axcend Focus LC with other instruments is a snap, whether you want the added sensitivity of a mass spectrometer or need the repeatability delivered by auto samplers.
Lastly, not only is the the Axcend Focus LC highly competitive price-wise, but the ongoing costs to operate this capillary HPLC may be as low as 1/1400th of your current expenses for solvents and waste disposal.
Developed in the laboratories of Prof. Milton L. Lee at Brigham Young University as the world's first truly mobile gradient LC system, the Axcend Focus LC creates new opportunities and greater flexibility for conducting mobile and stationary analyses.
Approximately 32 x 23 x 20 cm and 8.0 kg (17.6 lbs)
Greater HPLC sensitivity via single or dual miniaturized LED UV-absorption-based detectors
150 µm internal diameter (ID) capillary columns filled with 1.7 — 3 µm fused silica particles (other sizes and materials possible)
Convenient cartridge-based system allows rapid tool-less setup and operation
Requires dramatically smaller sample and solvent volumes, with significantly less waste (as little as 1/500th less)
Secure wireless or wired control and data output through connected computers, tablets or smartphones running leading operating systems
Rechargeable battery or AC power for lab or field use
Physical Specifications
Axcend Focus LC® (height x width x depth)
20.1 cm x 23.1 cm x 32.0 cm (7.9 in x 9.1 in x 12.6 in)
Weight (without cartridge): 7.82 kg (17.25 lbs)
Axcend Focus LC® cartridges (height x width x depth)
4.1 cm x 11.2 cm x 18.8 cm (1.6 in x 4.4 in x 7.4 in)
Single detector cartridge: 0.26 kg (9.0 oz.)
Dual detector cartridge: 0.29 kg (10.1 oz.)
Solvent and waste vials (height x diameter)
Solvent-A Vial: 6.0 cm x 1.6 cm (2.38 in x 0.63 in)
Solvent-A Vial (volume): 9.0 mL
Solvent-B Vial: 4.5 cm x 1.5 cm (1.75 in x 0.56 in)
Solvent-B Vial (volume): 5.0 mL
Waste Vial: 7.0 cm x 2.0 cm (2.75 in x 0.81 in)
Waste Vial (volume): 17.0 mL
Instrument Controls
Axcend Focus LC® cartridge
Basic one-way manual insertion/removal
Hand-tightened AssurLoc™ system offers leak prevention and ferrule alignment
Sample delivery
Topside port with automated or manual injection
Solvent and waste vial access
Front panel insertion into or removal from the Axcend Focus LC® front panel can be performed easily
Power
One-button Start/Stop control
System Features
Pressure
Up to 10,000 psi (689 bar)
UV-absorption detectors (single or dual)
255 or 275 nm wavelength
Capillary columns (single or dual)
Length: 50, 100, 150, 200, or 250 mm
Internal Diameter (ID): 150 μm
Packing material
Standard: 1.7–3.0 μm fused silica particles
Optional: Up to 5.0 μm, with other packing
Flow rate range
0.5–10 μL/minute
Delay volume
1.0 μL
pH range
2.0–10.0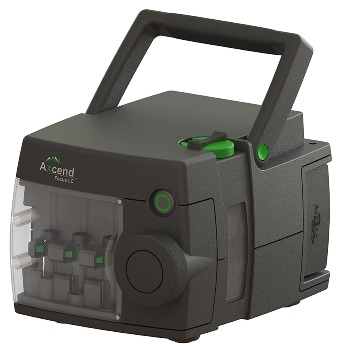 The shoebox-sized Axcend Focus LC is a lightweight HPLC designed for both field and laboratory use.
Solvent and Sample Management
Number of solvents
Up to two: A and/or B
Injection volume range
External loop: 175 nL and greater
Internal loop: 4, 10, 20, 30, or 40 nL
Injection modes
Automated and manual
Gradient formation
High-pressure mixing, binary gradient
Flow ramping
User-defined using software interface
Primary wetted materials
PEEK
Fused Silica
Polyimide
316 Stainless Steel
Solvent and waste storage
All vials can be easily accessed and integrated within the Axcend Focus LC®.
Software
The Axcend Focus LC®'s secure wireless and wired HPLC output and control take place through computers that support HTML5. The main computer operating systems that are supported include:
Mac High Sierra and later
Windows v7 and higher
Ubuntu 16.04 and later
Power Specifications
AC
100–240 V (AC); 50/60 Hz; 1.4 amp
DC (battery)
12 V (DC), 126 Wh (LiFePO4, with higher chemical and thermal stability compared to standard Li-ion batteries)
Operating time
10+ hours without recharging
Expected life
Over 2000 charge/discharge cycles